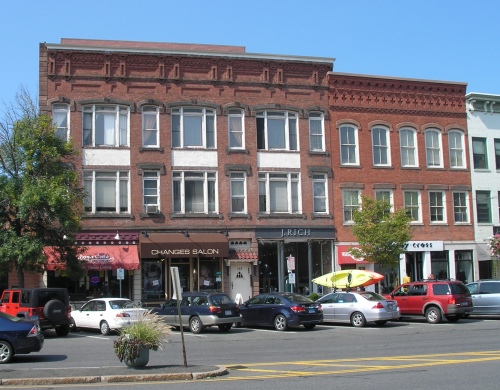 The William Todd Block, at 153-159 Main Street in Northampton (the building on the left in the image above), is a commercial/apartment building erected in 1870. It was designed by J.M. Miner. It replaced an earlier brick building on the site that was destroyed by fire in July 1870. As related in The Attractions of Northampton (1871), by Charles H. Chandler:
The year 1870 will long be remembered in Northampton on account of the two great fires which occurred, and the consequent impulse given to business by rebuilding. The fire of May 18 destroyed the Edwards Church and the North Block; that of July 19 the Warner House, Todd's Block, and several smaller edifices. By these two fires the whole business center of the town was threatened, and in fact narrowly escaped destruction. As a result, the Edwards Church has been rebuilt on a new site in a superior manner, and the new Fitch Hotel rears its lofty front where the Warner House stood. Todd, Lee & Co. have erected a fine brick block on the old site of the Edwards Church, and W. H. Todd has rebuilt his block, and most of the other buildings burned have been replaced by better and more substantial structures. Besides, Messrs. Dawson, Fitch and Crafts have built a brick block on the corner of Main street and Strong avenue, and Wright & Co. have entirely remodeled their store, putting on a new front.
Next to the Todd Block, at 147-149 Main Street (the building on the right in the image above), is the Serio Block, built c. 1860. Originally called the Clapp and Johnson Block, it was part of what was known as granite row. The building's second story was added during a renovation in 1870.