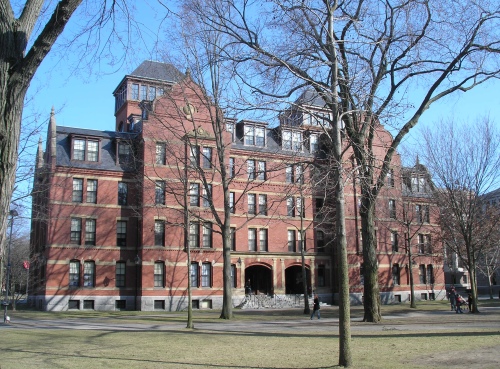 According to the Official guide to Harvard University of 1907:
Weld Hall, containing 53 suites of rooms, of which 22 are single and the rest double, was built in 1871-72, at a cost of about $87,000. It was given by William Fletcher Weld in memory of his brother, Stephen Minot Weld, of the Class of 1826, a benefactor of the College, a member of the Board of Overseers from 1858 until his death in 1867, and one of the first to conceive the idea of Memorial Hall. It contains a common-room for the general social use of its occupants.
Given as a gift around the same time as Matthews Hall, Weld Hall was designed in the English Queen Anne style by the firm of Ware & Van Brunt. The dorm is notable for its two towers with clerestory windows, lighting the stairs, although these were enclosed as a precaution against fire in 1962. Famous residents have included John F. Kennedy, Michael Crichton, Daniel Ellsberg, Christopher Durang, Ben Bernanke and Douglas Kenney.