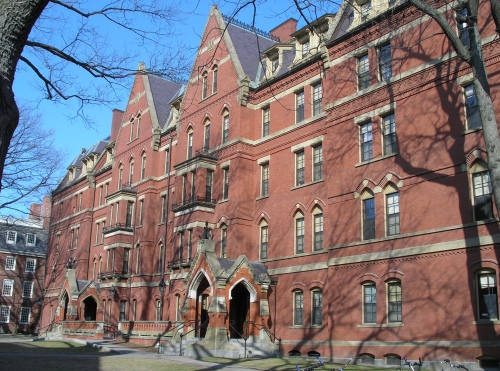 According to the Official guide to Harvard University of 1907:
Matthews Hall, completed in 1872, at a cost of about $113,000, was the gift of Nathan Matthews, of Boston, who stipulated that half the net income from the dormitory should be used to aid needy and deserving scholars; students for the ministry of the Protestant Episcopal Church and sons of ministers of that church to be preferred. The fifteen Matthews Scholarships were thus established. This dormitory, containing 60 suites of rooms, is thought to stand on the site of the old Indian College, built in 1654.
When Matthews Hall was built, an earlier brick building, Dane Hall, had to be moved seventy feet to the south to make room. The new building, designed by Peabody and Stearns, has Ruskin-inspired Gothic ornamentation, but is symmetrical in its plan, maintaining a balance consistent with earlier buildings in Harvard Yard. Matthews Hall has had a number of interesting past residents, including Matt Damon, Chuck Schumer, Barney Frank, William Randolph Hearst, John Dos Passos and Ernest Thayer.