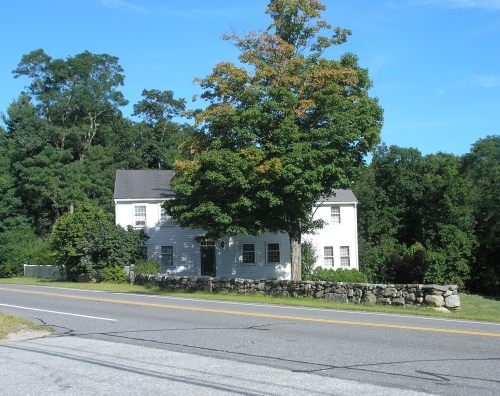 The house at 175 Still River Road in Harvard was built around 1730 with a saltbox form, but was later altered to a full two stories. Standing at the northern edge of Still River Village, the house was built by Joseph Willard (1685-1761) and remained in the family until it was sold to other owners in the early nineteenth century. It was bought back by Luther Willard in 1830 and it passed to Luther's son, Frederick, in the 1860s. Frederick served as town selectman in 1876, and later operated a brickyard. Following his death, the farm passed to his brother, Rev. John Barstow Willard (1822-1900), and two sisters. Rev. Willard served as minister in Westford from 1848 to 1850 and his background is described in the History of the Town of Westford, in the County of Middlesex, Massachusetts, 1659-1883 (1883), by Rev. Edwin R. Hodgman:
Rev. John B. Willard was born in New York city, April 1, 1822. His parents, Luther and Mary (Davis) Willard, were born in Harvard, Massachusetts. He graduated at Brown University in 1842, and then studied law three years, partly in Syracuse, New York, and partly in Boston, but never entered the legal profession. He studied theology with Rev. Washington Gilbert, then of Harvard.
As related in the History of the Town of Harvard, Massachusetts, 1732-1893 (1894) by Henry S. Nourse:
The guests at the first Harvard ordination in 1733 were entertained at the house of Joseph Willard, son of the first Henry. This dwelling stands in excellent preservation, in North Still River, at the junction of the Groton and Harvard roads, being now the home of Reverend John B. Willard and his sisters. They are direct descendants of the first owner. The roof at the rear originally sloped to a single story, and other alterations have given the house a somewhat modern appearance. In making these changes it was found that the outer walls were lined with brick laid in clay; and upon beams and joist were several memoranda dated between 1730 and 1740, and one or more dates of the previous century. The south-west room was known as the "dower room," being fitted for the residence of the dowager with a special stairway to cellar, and oven and closet conveniences. This feature was quite usual in old country houses. The mansion, if a new one when Joseph and Elizabeth Willard began housekeeping, was built about 1712; but there is some reason to believe that it dates from about 1730, though very probably in part a reconstruction from the materials, or built upon the site, of an older edifice.
In the early twentieth century the house was acquired by James Murchie, a cattle dealer, and in the early 1920s by H. E. Drury, a retired navy paymaster.