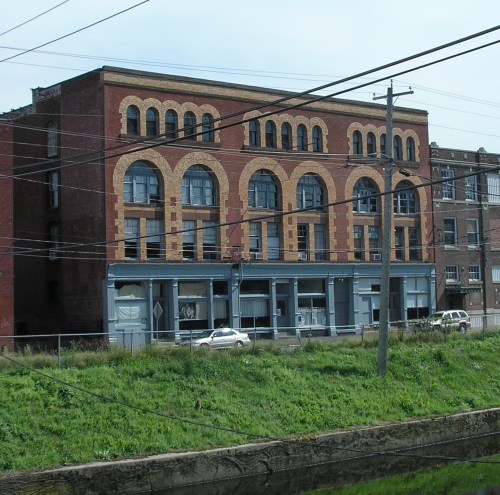 Around 1896, Henry G. Sears and Lemuel Sears (not related by blood) constructed the building at 80 Race Street in Holyoke. Henry G. Sears was born at Shelburne Falls in 1853. As related in volume 6 of the Encyclopedia of Massachusetts, Biographical–Genealogical (1916):
In March, 1871, he entered the employ of Lemuel Sears, a merchant of Holyoke, Massachusetts, remaining but a few weeks when he accepted the advice of an uncle, Henry Eldridge, and went West. He located at Dwight, Illinois, and there made an agreement by which in return for his services he was to receive twelve dollars and fifty cents per month the first year, fifteen dollars the second and twenty dollars the third year, in addition to his board. The West did not prove to his liking, and after one month in his new home he returned to Holyoke and again entered the employ of Lemuel Sears, beginning as clerk at a weekly salary of four dollars and board. He remained in that subordinate position until twenty-three years of age, when he was admitted to a partnership in the business then conducted upon a retail basis only. The partnership, begun in 1876, was continued until the death of Lemuel Sears, March 17, 1912, when Henry G. Sears purchased the interest owned by the heirs and became sole proprietor. Soon after 1876 the business was enlarged and as wholesale and retail grocers the firm became well and most favorably known, the enthusiasm, energy and efficiency of the junior partner agreeing well with the matured wisdom and long experience of the senior. After becoming sole proprietor Mr. Sears, in April, 1913, expanded the business by incorporation, as the Henry G. Sears Company, with Henry G. Sears as president and treasurer, and the business of the company has been built up until it is at the present time (1916) the largest in Western Massachusetts.
The grocery store was damaged in a fire in 1921. The building later housed a local beer and wine distributor and is now home to Paper City Studios.