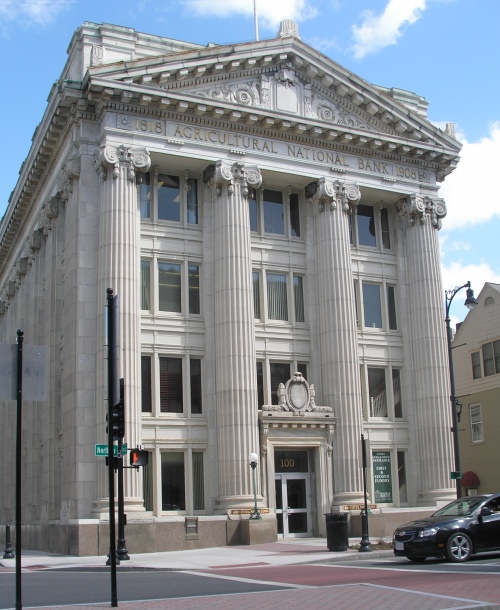 The impressive white marble building of the First Agricultural National Bank stands at 100 North Street in Pittsfield. Built in 1908-1909, it was the Bank's fourth home since its founding in 1818. Its first home was the former building of the failed Berkshire Bank. As related in The History of Pittsfield (1916) by Edward Boltwood:
In 1876, the banking rooms of the Agricultural were those now occupied by the Third National, on the ground floor of the building of the Berkshire Life Insurance Company, north of the main entrance. The erection of the handsome white marble structure on the east side of North Street, between Fenn and Dunham Streets, which is at present occupied in part by the Agricultural, was begun by the bank in June, 1908, and finished in October, 1909. The architects were Messrs. Mowbray and Uffinger of New York; and the result of their labors and of those of the bank's building committee was a notable contribution to the beauty of the business center of the city. The cost of the building was $250,000.
A 1928-1930 addition to the bank was designed by the firm of Halsey, McCormack & Helmer.