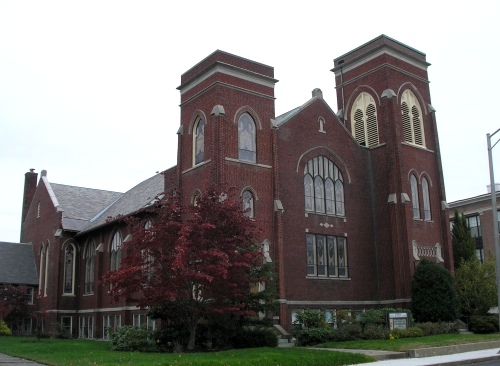 The First Swedish Methodist Episcopal Church in Quinsigamond Village in Worcester was formally organized in 1880. As recorded in Vol. I of Charles Nutt's History of Worcester and its People (1919):
A colony from the First Church organized the Second Swedish Methodist Church April 9, 1885, with a membership of 94, including 29 probationers. Rev. Mr. D. S. Sorlin came from the First Church and was the first pastor of the Second. The first place of worship was in the chapel on Thomas street, purchased of the First Church of Christ for $8,000. By two additions in 1887 and 1888 costing $13,400 the seating capacity was increased to more than 500. It was dedicated Sept. 27, 1885.
Having grown too large for its first church building, the congregation built the present structure in 1926-1927 at 64 Salisbury Street. At the time of the move to the new building, designed by Henry Eckland of Chicago, the name of the church was changed to Epworth Methodist Church, now Epworth United Methodist Church.