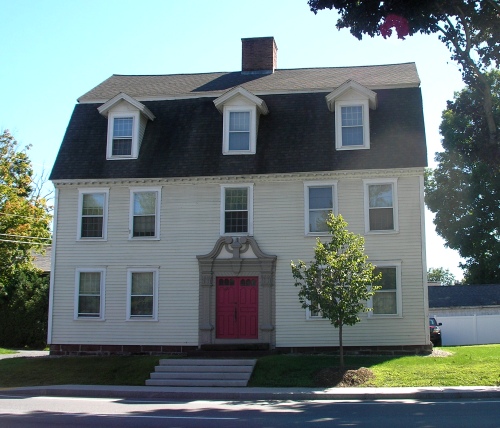 Built around 1761 (perhaps as early as 1755), the Landlord Fowler Tavern is located at 171 Main Street in Westfield. Daniel Fowler was granted a tavern license in 1761 and the building continued to function as an inn until the 1830s. At the start of the American Revolution, Daniel Fowler served on the Committee of Correspondence, which met at the tavern. As related in The Westfield Jubilee (1870):
It is said that General Burgoyne, when he passed through this town as a prisoner from the field of Saratoga, spent the night at this tavern, and with true military politeness, kissed the wife of the landlord, on the morning of his departure.
Another prisoner of war to stay in the house during the Revolutionary War was Hessian commander General Friedrich von Riesdesel. H. C. Schaeffer owned the property between 1885 and 1916, during which time he conducted a cigar-making business on the premises. More recently, the former tavern has been restored and converted into apartments. The Fowler Tavern's original Connecticut River Valley broken scroll pediment doorway was removed in 1920 by Wallace Nutting and placed in the American Wing of the Metropolitan Museum of Art in New York. The current doorway on the building is a replica.