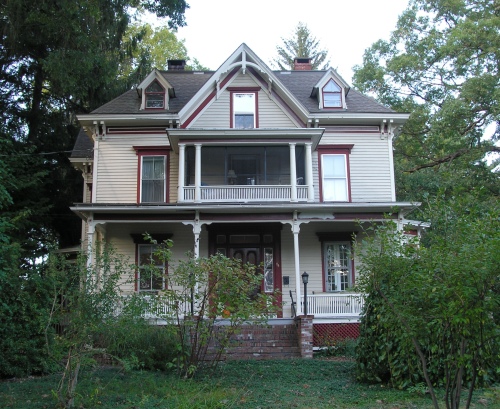 According to The History of the Town of Amherst (1896):
Chauncey W. Lessey, son of Alanson, was born in New Fairfield, Conn. in 1837. He came to Amherst in 1865, and engaged in business as a building contractor. He built the First church, Grace church, Walker hall, Palmer's block and many dwelling-houses. He was for five years chairman of the board of selectmen and for many years one of the assessors. He represented the town in the General Court in 1876. He was a leading member of Grace church. For several years he was a trustee of the Amherst Savings bank. He married, Melvina Swanger. He died Aug. 26, 1877.
He also built his own stylistically eclectic home, at 94 Lessey Street, about 1870. After Lessey's widow moved out of the house, it was purchased by Levi Stockbridge in 1886. Stockbridge was a farmer and agricultural scientist from Hadley who was instrumental in the early history of the Massachusetts Agricultural College, now UMASS. He helped clear the land for the school and was its first farm superintendent (1867-1869). He was later a full professor (1872-1879), acting president (when President William Smith Clark left for Japan in 1876), and fifth president (1880-1882). Stockbridge also had a hand in the development of the Massachusetts Agricultural Experiment Station. As a scientist, he held patents for his experiments in fertilizer development, nutrient leaching and soil mulching and wrote Experiments in Feeding Plants (1876). He also served in the state legislature and as a Selectman of Amherst.