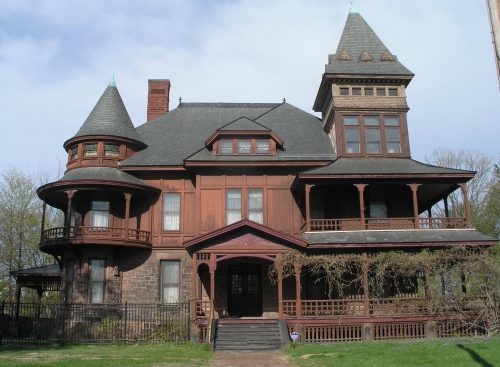 Julius Henry Appleton (1840-1904) of Springfield was president and treasurer of the Riverside Paper Company. According to the Genealogical and Personal Memoirs Relating to the Families of the State of Massachusetts, Vol II (1910):
under his management the business grew from a capacity of two tons a day to twenty-three tons a day when he retired, after continuous service of twenty-seven years, on the formation of the American Writing Paper Company in 1899. […] Mr. Appleton was a prominent member of the South Church. In politics he was a Republican. He was a member of the city council in 1869 and 1874, and in the council of Governor Crane in 1901 and 1902. He served on the state board of health seven years. He was a director of the Springfield City Library, and on his retirement from active business, gave generously to the Holyoke City Library and the City Hospital and House of Providence of that city. As a trustee of the Horace Smith estate he was interested in the distribution of aid to institutions and individuals so quietly that its extent was little appreciated by the general public.
Julius H. Appleton's Queen Anne/Stick Style house, at 313 Maple Street in Springfield, was built around 1886.