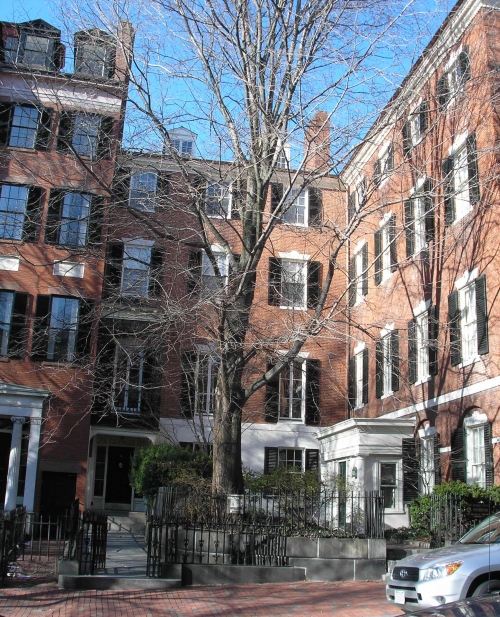 Left: 59 Mt. Vernon St.; Center: 57 Mt. Vernon St.;
Right: Nichols House Museum (55 Mt. Vernon St.);
Jonathan Mason, one of the Mount Vernon Proprietors (the group of real estate speculators who developed Boston's Beacon Hill), commissioned the architect Charles Bulfinch to design a row of four houses (51-57 Mt. Vernon St.) for his daughters. Originally constructed in 1804, Nos. 55 & 57 both had side entrances on their west elevations, facing Mason's mansion, which is no longer standing. In 1837, No. 59 (designed by Edward Shaw) was built to the west, blocking the entrance to No. 57, which was consequently moved to its current location on the front facade, facing Mt. Vernon St. Nos. 55-57 have had some notable residents.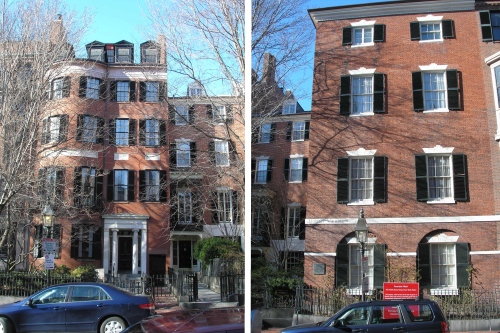 Left: 59 & 57 Mt. Vernon St.; Right: Nichols House Museum (55 Mt. Vernon St.)
No. 55 (1804) was the home of Miss Rose Standish Nichols (1872-1960); it had been acquired by her parents in 1885. Nichols was a writer, landscape architect and peace activist, who founded the Women's International League for Peace and Freedom. She was also a niece of the sculptor, Augustus Saint-Gaudens. She left her home to become, the Nichols House Museum, which is the only private house museum on Beacon Hill.
No. 57 (1804) was lived in by Daniel Webster from 1817 to 1819 and by Charles Francis Adams from 1842-1886. It was thus the childhood home of his sons, including the historian Henry Adams.
No. 59 (1837) was the home of poet Thomas Bailey Aldrich, who succeeded William Dean Howells as editor of the Atlantic Monthly in 1881. The house is considered the high point of the Greek Revival style on Beacon Hill.