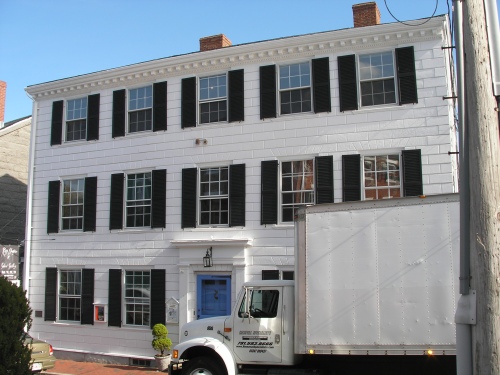 This week, we'll be looking at some mansions in Marblehead built by members of the wealthy Hooper family. The oldest section of the King Hooper Mansion, at 8 Hooper Street, dates to 1728 and was built by Greenfield Hooper, a candle maker. The front section, with its elegant Georgian facade, was erected in 1745 by his son, Robert Hooper. As described in The Loyalists of Massachusetts and the Other Side of the American Revolution (1910), by James H. Stark:
Robert Hooper, known as "King Hooper," was born at Marblehead, June 26, 1709, son of the aforesaid Greenfield Hooper. He was married four times. Was a merchant who rose from poverty to apparently inexhaustible wealth, engrossing for years a large part of the foreign fishing business of Marblehead, which was very extensive about the year 1760. For awhile he purchased all the fish brought into that port, sent it to Bilboa and other parts of Spain and received gold and silver in return, with which he purchased goods in England. He owned lands in Marblehead, Salem, Danvers, and an extensive tract at Lyndeborough, N. H.. and elsewhere. He had a large and elegant house at Marblehead, and also a mansion at Danvers, where he did "royal" entertaining, rode in a chariot like a prince, and was ever after known as "King Hooper." He was one of the wealthiest and most benevolent men in the colony.
Robert Hooper was also called "King" by the local sailors for his fairness and integrity. In 1819, the mansion was traded to Jason Chamberlain for the schooner Economy. Chamberlain's heirs owned the house until 1888, using the front room as a dry goods store. It was next owned by the YMCA and then used as a tea room and an antique shop. Since 1938, the house has been owned by the Marblehead Arts Association. The King Hooper Mansion now hosts art exhibitions and can be rented for events.