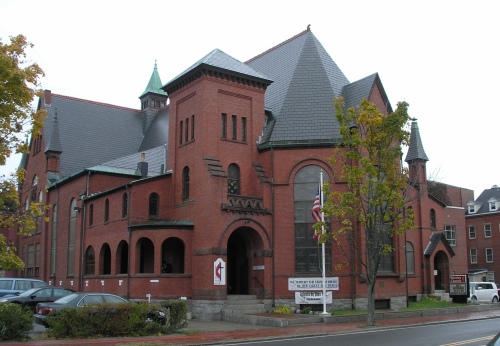 Wesley United Methodist Church, at 8 North Street in Salem, was designed by Lawrence B. Valk of New York and was constructed in 1888-1889. The local Salem contractors were J.F. Farrin, Joseph N. Parsons, and Joseph N. Peterson. As explained in the Visitor's Guide to Salem of 1892, at that time Salem had two Methodist churches. One, the
"Lafayette St. Methodist Episcopal Church, at the corner of Harbor street, was built and dedicated in 1853. This society had previously occupied a smaller house of worship on Sewall street, which was again occupied in 1872, as Wesley Chapel, by members who withdrew from the Lafayette St. Society, and who, largely augmented in numbers, re-organized as […] The Wesley Church and, in 1888, erected the large brick and stone church edifice on North street a few doors from Essex. In construction this is quite different from any other church building in the city. By means of sliding doors, the seating capacity can be much increased by connecting the Sunday school rooms, which are on the street end of the building, with the large audience room. The windows of the church being of stained glass present a most beautiful appearance in the evening when services are being held, the brightly lighted interior reflecting attractively through the large gothic memorial window on North street.
The Lafayette Street United Methodist Church moved to a new building at 292 Lafayette Street in 1910 and in 1994 merged with the Wesley United Methodist Church. Since 2007, the Lafayette Street church building has been the First Baptist Church of Salem.