The sign in front says "The Harriet Beecher Stowe House," but the historic structure at 2 Pleasant Street in South Natick, which now serves as lawyers' offices, was not a residence of the author of Uncle Tom's Cabin. Instead, it was built during the childhood of her husband, Calvin Ellis Stowe, who had grown up in the neighborhood. Stowe was born in Natick in 1802, but the death of his father in 1808 left Calvin, his mother and brother in need of financial support. They went to live with the family of Calvin's grandfather, Col. William Bigelow, in Natick and, with the help of local ministers, Calvin was able to graduate from Bowdoin College with honors in 1824. By the 1830s, Calvin was teaching sacred literature at Lane Theological Seminary in Cincinnati, Ohio. After the death of his first wife, Eliza Tyler, in 1836, he married her best friend in Cincinnati, Harriet Elizabeth Beecher, daughter of the Seminary's president, Lyman Beecher. The couple later made visits to the house at Pleasant Street in Natick. It had been built in 1816 by Dr. Alexander Thayer, on land he had acquired from Col. Bigelow. Dr. Thayer, who had married Bigelow's daughter, built the house for his father-in-law. Thayer's son, Alexander Wheelock Thayer, later became the author of a famous biography of Beethoven.
Drawing on reminiscences of her husband and in-laws and possibly the written source, "A Brief Account of the Customs and Manner of Living in the Days of our Forefathers" in Oliver N. Bacon's A history of Natick (1856), Harriet Beecher Stowe wrote the novel, Oldtown Folks, published in 1869, and the story collection, Oldtown Fireside Stories, published in 1872. According to the Genealogy of the Bigelow family of America (1890), Stowe's grandfather, William Bigelow
was the original character described by Harriet Beecher Stowe in the story of "Old Town Folks" as "Deacon Badger," his wife Hepsibah is described as "Grandmother Badger," and those who remember them say that their characters were most accurately depicted. William, the eldest son, is described as "Uncle Bill," Hepsibah (the mother of Prof. Calvin E. Stowe), was known as "Susy," while Eunice figured as "Aunt Lois," and Abigail as "Aunt Keziah."
Calvin Stowe was also an author. His book, Origin and history of the Books of the Bible was published in 1868.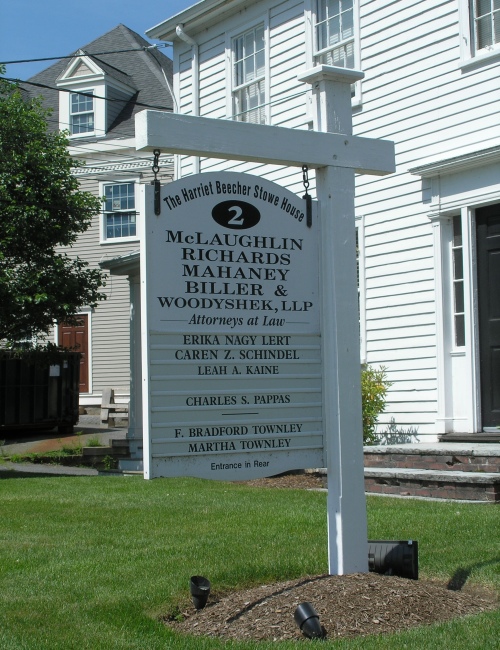 Sign in front of the Harriet Beecher Stowe House.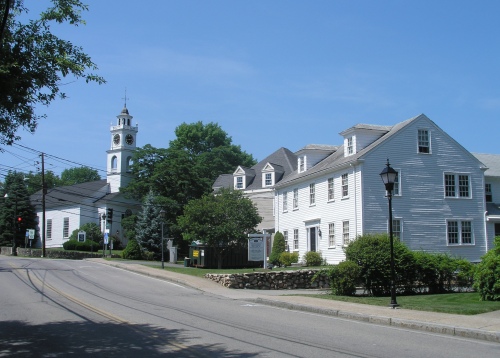 Stowe House on right; Eliot Church on left.