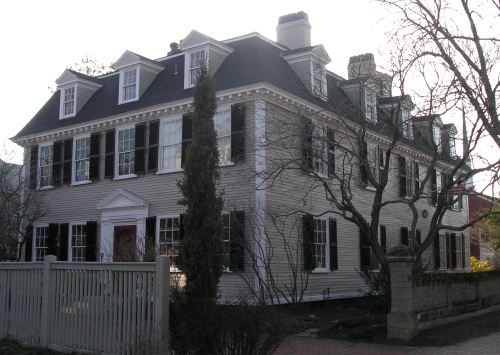 The oldest part of the Henry Vassall House, on Brattle Street in Cambridge, may date to as early as 1636, although the date usually given today is 1746. In that year, the property was sold by John Vassall Sr., who had purchased it in 1737, to his younger brother Henry Vassall. John Vassall's son, Maj. John Vassall, built the nearby Vassall-Craigie-Longfellow House. Henry Vassall was a loyalist at the time of the Revolutionary War and the Vassall House is one of several homes belonging to loyalists along the section of Brattle Street known as Tory Row. These homes were either sold by their owners or seized during the Revolution. Vassall had died in 1769 and in 1775, his widow, Penelope Royall Vassall, fled to Boston and then to her estates in Antigua. According to the Historic Guide to Cambridge (1907):
"Just before sailing Madam Vassall petitioned the Provincial Congress, then sitting at Watertown, that she might be allowed to take with her some of her effects. Congress permitted her to take anything that she wanted except "provisions and her medicine chest." The estate was not confiscated, as it belonged to a widow who had taken no active part against the patriots."
The Continental Army at the time had only one other medicine chest besides the one in the Vassall House. "From these two all the regimental surgeons had to supply their needs. The fact that the medicines were here, and that there were twenty available rooms, besides halls and out-houses, may have been the reason that this house became the medical headquarters." In 1775, Dr. Benjamin Church, who was effectively the first Surgeon General of the U.S. Army, was found to be sending secret letters to the British Commander, General Thomas Gage. Convicted of "communicating with the enemy," Dr. Church was held for a time in the Vassall House as a prisoner. The house has remained a private home, with a number of alterations and additions being made to it over the years.