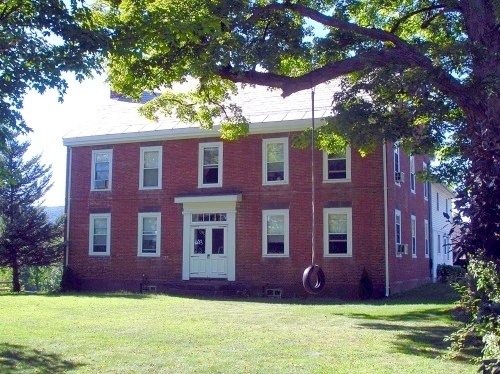 John Bancroft, who was a captain in the French and Indian War, built the brick house that still stands at 530 Pochassic Street in Westfield. Rev. John H. Lockwood, in his Westfield and Its Historic Influences (1922), writes of
Capt. John Bancroft who, in 1755, built in Pochassic what was probably the second brick house in the present Hampden County, the old Day house in West Springfield dating from 1754. The Bancroft house was by far the more massive and pretentious of the two and is still a notable mansion. Captain John, its builder, was a prosperous farmer, owning slaves, like a few of his fellow townsmen of the time. He was very proud of his elegant mansion. A tale, which may be pure romance founded on his well known characteristics, has come down to our time, somewhat as follows: He was wont to sit within his commodious domicile and watch for passers by in order to gloat over their envious glances. One day, while thus engaged, he called out to one on the road, "Did you think that you had reached paradise?" Quickly came the stunning response, "Yes! I did think so, until I saw the devil looking out of the window." Sic transit gloria mundi!
In 1776, during the Revolutionary War, Capt. Bancroft's name was published on a list of those considered "enemies of their country" and the Committee of Correspondence and Safety confined him within the limits of his farm. He regained some of his status after the War, but research long after his death revealed that he had been selling secrets to the British throughout the Revolution.