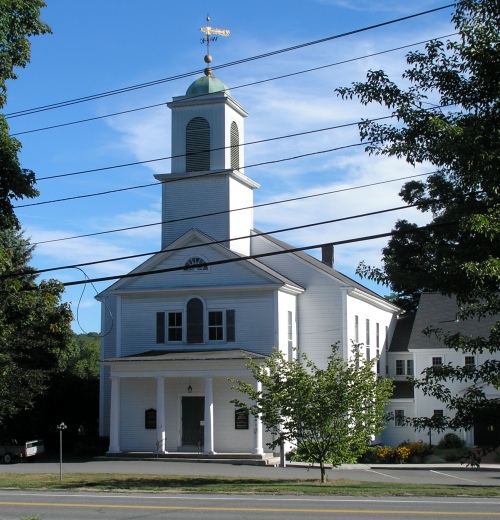 In 1821, part of the membership of Harvard's First Church who objected to the town's granting use of the meeting house to the Unitarian Society split off to form their own separate congregation, the Calvinistic Congregational Society. As related in History of the Town of Harvard, Massachusetts, 1732-1893 (1894) by Henry S. Nourse:
This formal withdrawal left the meeting-house and church furniture in legal possession of those refusing Calvinistic doctrines, and the records, though detained for a time by the clerk, Reuben Whitcomb, a leader in the new society, were soon surrendered to them. April 16, 1821, it was voted to apply to the town tor a piece of the common whereupon to build a meeting-house, and a committee was instructed to present a plan.

April 29 the town gave the ground now in possession of the society, agreeing to remove the pound and hearse-house, then standing upon it. A building forty-four feet by fifty was agreed upon, its cost being divided into one hundred shares of twenty-five dollars each.
Nourse describes later additions to the church:
In August, 1827, a subscription, headed by Seth Nason with a gift of one hundred dollars, was raised to add a cupola to the front of the meeting-house and provide a bell. The sum of $903.50 was obtained, and the addition was made, including an increase in the number of pews. In 1836 a new pulpit was built by a few individuals of the society.

[. . .] March 12, 1855, the society changed its name to "The Evangelical Congregational Society." In 1858 the gallery pews in the meeting-house were fitted for more convenient use, and two years later the building of a "piazza" brought the church into temporary debt.
The building, at 5 Still River Road, continues to be the home of the Congregational Church of Harvard.