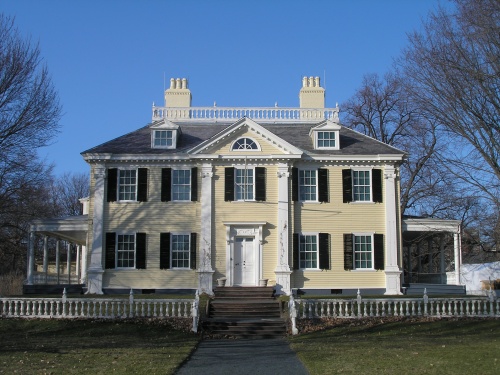 The Vassall-Craigie-Longfellow House has important associations with both the Revolutionary War and nineteenth century American literature. This impressive Georgian-style mansion was built in 1759 by Maj. John Vassall on what is now Brattle Street in Cambridge. The area was known as Tory Row because of the many houses built there by loyalists, like Vassall. When anti-Tory sentiment rose during the outbreak of the Revolutionary War in 1774, Vassall and his wife, who was the sister of the royal lieutenant governor of Massachusetts, fled to Boston and eventually left for England. The abandoned house was occupied by the Marblehead Regiment in 1775 and then became the headquarters of General George Washington from July 1775 to April 1776 (during the Siege of Boston).
After the war, the house came into the possession of Andrew Craigie, who had been the Continental Army's first Apothecary General. He added porches to the sides of the house and an extension on the back. When he died, in 1819, he left his wife, Elizabeth in debt. Over the next two decades, she would take in boarders to make ends meet, including many Harvard students. In 1837, one of her boarders was Henry Wadsworth Longfellow, then a professor of modern languages at Harvard. In 1843, when Longfellow married Fanny Appleton, her father, the wealthy industrialist Nathan Appleton, acquired the house to give the newlyweds as a wedding gift. Longfellow would live there until his death in 1882, passing the property on to his children. His daughter, Alice Longfellow, later commissioned a new garden in the Colonial Revival style.
In 1913, his surviving children established the Longfellow House Trust to preserve the house as a monument to their father and George Washington, as well as to Georgian architecture. In 1962, the house became a National Historic Landmark and the Trust donated it to the National Park Service and it is today open to the public as the Longfellow National Historic Site.