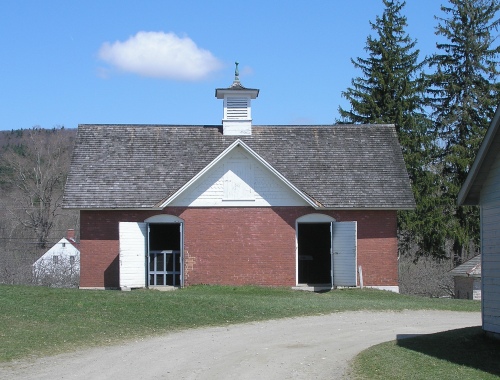 The Shakers at Hancock Shaker Village had a number of ice houses constructed in the nineteenth century, but the one that survives was built in 1894 to replace an earlier one of 1866. Sister Emoretta Belden described the new ice house in the Shaker Manifesto of December 1894:
We have long anticipated the possession of a new ice-house, with modern improvements. Within the last two months it has been erected. The building is 22×34 ft. with brick walls 18 ft. high, laid in red-colored mortar. One half of the lower story is finished inside with Southern pine, to be used for cold storage. The ice-hall and chamber will hold about two hundred tons of ice. The outside wood-work is painted a light gray color, and presents quite a nice appearance. There are rooms for vegetables, fruits, meats, and any things that we may wish to keep for a long or short time.
Built into a hill side to use the natural insulation of the earth, the south side of the Ice House is smaller than the cooler north side, to minimize the sun's impact. Cool air from the ice chambers vents directly into food storage rooms, and a cupola on the roof allows the warmer air to escape. For insulation, the building has double and triple hung doors and on the lower level are triple-glazed windows.