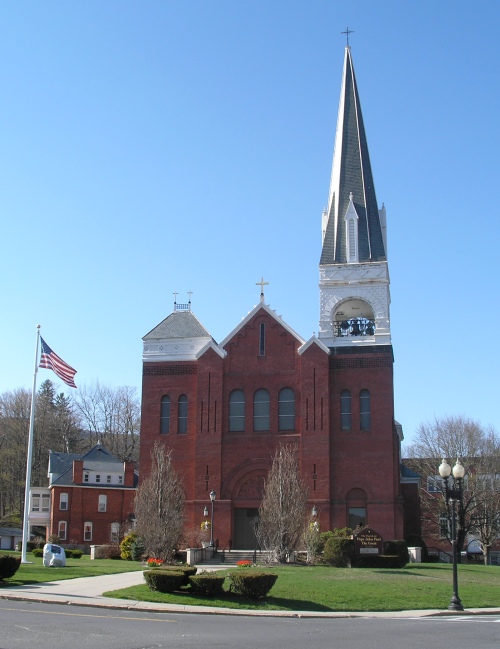 In vol. II of The History of the Catholic Church in the New England States (1899), Rev. John J. McCoy relates the origins of Notre Dame des Sept Douleurs parish:
Just one year beyond a quarter of a century need we go to find the French-Canadian people of Adams assisting for the first time at Mass in a body by themselves. Then, January 4, 1872, Father Charles Crevier, the pastor of the Sacred Heart church at North Adams, gathered them into a hall on the third story of a building in the town, and said Mass for them and preached to them in their native tongue. Five years later, on Park street, upon land which he had already purchased for $2500, he built a frame chapel at a cost of $5000. The original yet serves the people as a school for the parish children. In September, 1882, Bishop O'Reilly made the Rev. John Baptist Charbonneau, then a curate of Father Crevier, the first resident pastor of the Canadians of Adams.
The parish acquired additional property at 21 Maple Street for $15,000 and
Father Charbonneau, in 1887, hardly five years from the time of his appointment, laid the foundation of the spacious and beautiful church which is the pride of the Canadian people today. Bishop O'Reilly is reported as having called the church of the Sept. Douleurs one of the most beautiful in his diocese. It is of Romanesque architecture, 150 feet long by 70 feet wide, and has seating capacity for 1500 people.
In 1998, Notre Dame des Sept Douleurs Roman Catholic Church and St. Thomas Aquinas Roman Catholic Church in Adams formed a joint parish. In 2008, the two parishes merged to form Pope John Paul the Great Parish, now called Blessed John Paul Parish.