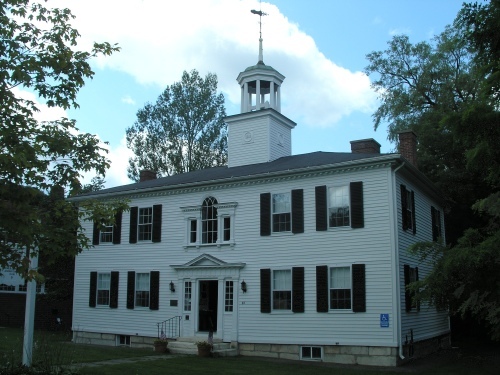 Lenox Academy was built in 1803, on Main Street in Lenox. According to Rev. Raymond DeWitt Mallary, in Lenox and the Berkshire Highlands (1902), wrote:
To be a graduate of Lenox Academy was not only a distinction, it was a passport to any college, and often to the sophomore class of a higher institution of learning. The papers of the day within a radius of a hundred miles refer to this preparatory school with glowing commendation. Its pupils came from widely separated portions of the country and the fame of its examinations, which were of unusual rigidity, attracted visitors from long distances, who repaired to their homes to spread the report of them. The tuition was very moderate, —$7 a term of fourteen weeks; and board reached the not exorbitant sum of "$1.25 to $1.50 per week in good families." The tradition has survived that one pupil (long a distinguished educator and only lately deceased) " lived like a dandy because he had rooms at the hotel, for which he paid $2 per week." Lenox Academy flourished until 1866.
The building housed various schools until the 1920s and was saved from demolition in 1947 when the town took it over. It housed various public organizations and today it is the headquarters of the Lenox Historical Society, which operates the Museum of Lenox History.