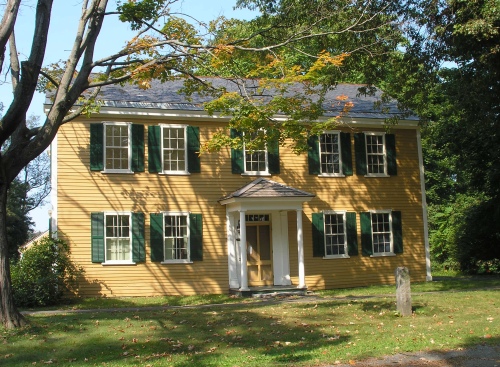 Happy Thanksgiving! Located along the main street of the village of Deerfield is a house, now painted a shade of yellow, which was built in 1748. It was originally the home of Dr. Thomas Williams. He was appointed surgeon to the to the regular and provincial troops by Royal Governor William Shirley and served in King George's War and the French and Indian War. George Sheldon, in his book, A History of Deerfield Massachusetts (1895), writes that Dr. Williams (b. 1718)
came to Dfd. 1789; lived on No. 9; became a prominent figure as a man of affairs, as well as in his profession; was surgeon in the abortive Can[adian] expedition 1746 and for the line of forts; he left Fort Mass. only two days before its capture in 1746; was surgeon in the regt. of his brother Ephraim, at the battle of Lake George, Sept. 8, 1755, and dressed the wounds of Baron Dieskau, the captured commander of the Fr. army; in the campaign of 1756 he was lieut.-col.; rep 2 yrs; selectman 2; town clerk 17; judge of probate and justice of the court of common pleas; and had an extensive professional practice; d. Sept. 28, 1775.
A slave owner himself, Dr. Williams kept records of the treatment he gave to enslaved Africans and free blacks in Deerfield. Slave owners sometimes paid their debts to the doctor with their slaves' labor. Upon the death of Dr. Williams, his practice was continued by his apprentice, Dr. Elihu Ashley (1750-1817), a son of Rev. Jonathan Ashley, who lived a few houses down the street from the doctor's house.
Early in the nineteenth century, the exterior of the house was updated in the Federal style, when the original gambrel roof was removed, the front portico was added, and fanlights (not pictured above) were placed in the gable ends.