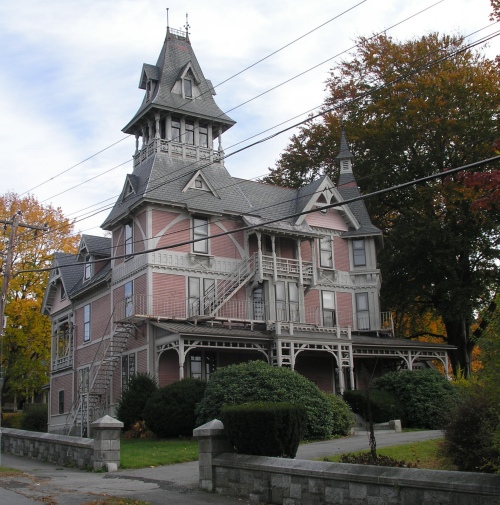 At 271 Church Street in Clinton is the elaborate Stick Style house, designed by Henry M. Francis and built for John R. Foster in 1882. Foster was a wealthy merchant who owned a chain of clothing stores throughout New England. As related by Andrew E. Ford in his History of the Origin of the Town of Clinton, Massachusetts, 1653-1865 (1896):
John R. Foster was born in Moretown, Vt., November 7, 1834. He began to work in a store at the age of twelve. He was for some time a clerk in Waterbury, Vt. In September, 1856, he went into partnership with W. H. Ashley, in the clothing business, in Clinton. Their store was in the A. H. Pierce Block on Church Street; thence they moved to the Clinton House Hall Block. Ashley remained in Clinton but a few months, then Mr. Foster took the business alone and carried it on until 1870, when he started the clothing stores in Danielsonville, Ct., Willimantic, Ct., and other places, which have proved so profitable to him, and have enabled him to add so much to the beauty of the town through his private residence and public benefactions.
Foster donated a fountain for Clinton's Central Park in 1890 that was destroyed in the Hurricane of 1938 (a replica was rededicated in 2000). His second wife, Catherine Harlow, was a member of the corporation that formed the Clinton Home for Aged People. In 1900 (or 1909?), the house was purchased by Dr. Walter P. Bowers for the Clinton Home for the Aged, now called The Clinton Home Foundation, Inc.