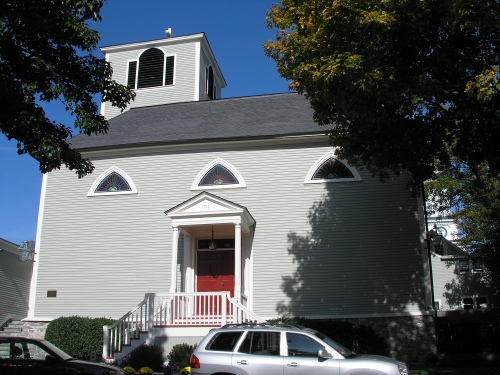 Located at 26 Pleasant Street in Marblehead, St. Michael's Episcopal Church is the oldest Episcopal church building on its original site in New England. Founded by a group of donors consisting primarily of sea captains, the church was built in 1714, with many of its original materials being shipped from Great Britain. The original square church was expanded by one third in 1728 with a new roof. During the Revolutionary War in 1776, patriots raided the church and removed the British royal coat of arms. Many of St. Michael's members at the time were Loyalists who fled to Canada. As related in Historic churches of America (1907), by Nellie Urner Wallington:
In the course of time, as one by one the families of the communicants died or removed to distant localities, the parish was so depleted that in 1818 funds were no longer forthcoming for the support of the church. The church building was closed, and the glebe sold to pay off the debt of the parish. In 1833, however, vigorous attempts on the part of the Congregationalists to secure possession of the church edifice roused the whole Episcopal church of the United States, until parish after parish contributed aid and old St. Michael's was once more set upon its feet.
The church's current stained glass windows were installed in 1888.