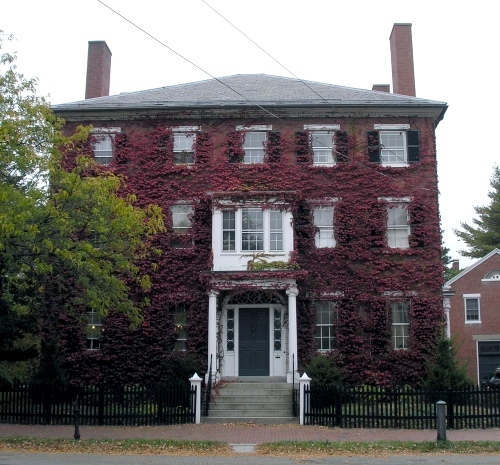 The last of the opulent Federal-style brick mansions to be built on Chestnut Street in Salem is the Devereux-Hoffman-Simpson House at 26 Chestnut Street. Built in 1826-1827, the house's first resident was Humphrey Devereux. From 1842 to 1878, it was home to Charles Hoffman, a merchant and noted horticulturalist. Hoffman was engaged in trade with the West Coast of Africa. According to Charles S. Osgood and H.M. Batchelder, in their Historical Sketch of Salem, 1626-1879 (1879),
After 1848, the trade was largely in the hands of Robert Brookbouse, Edward D. Kimball, and Charles Hoffman. The last arrival at Salem from the West Coast of Africa was the brig "Ann Elizabeth," from Sierra Leone, which was entered by Charles Hoffman, in July, 1873. Salem merchants are still engaged in this trade [in 1879], but their vessels do not enter the harbor of Salem.
From 1906 to 1939, the house was owned by Dr. James E. Simpson and his wife. They probably added the bay window above the front entrance.