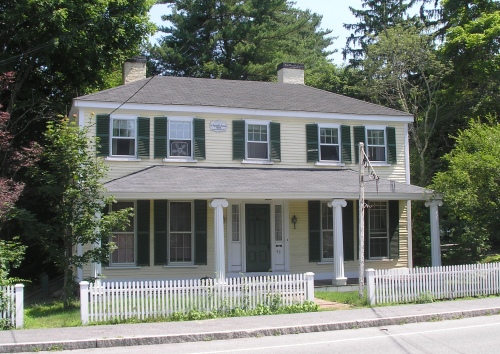 Dr. Stephen Hodgman Spaulding (1787-1866) was born in Chelmsford and studied three years at the Harvard Medical School. As described in the History of Middlesex County, Vol. III (1890):
He commenced practice in Littleton, Mass., remained a few years, then removed to Dublin, New Hampshire, where he secured an excellent and lucrative practice. After a few years he found that the severity of the winters, and the almost impassable state of the roads—being obliged to travel with snowshoes without any regard to boundary lines or fences —was telling upon his health, and this decided him to accept an invitation to settle in South Natick, Mass., where again he succeeded in building up an extensive practice.
In about 1841 he removed to Newton Upper Falls, and associated himself with his son-in-law, Dr. Samuel S. Whitney, who had married his only child, Sarah W. Spalding, in general practice. In 1843 his house and stable were burned. He then settled in Reading, Mass., and continued in practice there for several years. Later in life, after an active practice of thirty years, he retired, and removing back to South Natick, made that his home till he died. In his last years he was a great sufferer from disease. He was a member of the Unitarian Church and Parish of South Natick, and the large number at his funeral attested the respect and esteem of his towns-people.
His 1829 hipped-roof house is at 42 Eliot Street in South Natick.