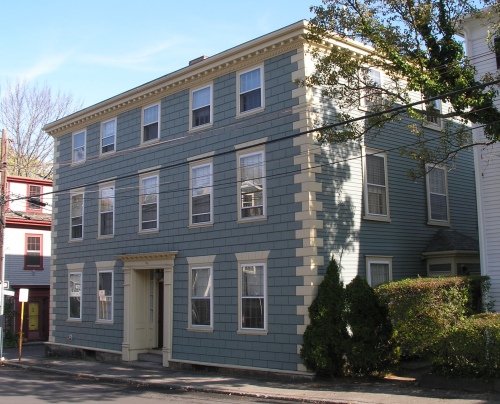 Maj. John Pedrick, a merchant and militia officer in Marblehead, built the house at 52 Washington Street in 1756. In 1770, he enlarged and remodeled the house, giving it a facade probably inspired by that of the nearby Col. Jeremiah Lee House. As described by Samuel Roads in The History and Traditions of Marblehead (1880),
His ships sailed to nearly every port in England, Spain, and the West Indies, and his transactions were with some of the largest mercantile houses of Europe. At one time, it is said, he owned twenty-five vessels engaged in the foreign trade.

The Revolutionary War, which proved so disastrous to the merchants of Marblehead, bore with especial severity upon Major Pedrick. Several of his vessels were destroyed by British cruisers in Massachusetts Bay, and many others rotted in port. But through it all he proved himself a zealous patriot, and a firm friend to his country. When his son was drafted as a soldier, he charged him not to accept a dollar from the government for his services, and provided him with money to meet his expenses. His daughters made a silk belt for their brother to wear, in which the gold and silver coins were quilted for safety.

In addition to his other losses, Major Pedrick suffered severely by the depreciation of Continental money. At a critical period of the war, he furnished the government with valuable military and naval stores, for which he was obliged to receive a large amount of paper money. In a short time this money became utterly worthless and the entire amount was lost.
Maj. Pedrick was also involved in the incident known as Leslie's Retreat on February 26 1775. On that date, a British force under Col. Alexander Leslie landed at Marblehead and marched on Salem to destroy cannon and other arms and ammunition gathered there by the colonials. Again quoting Roads:
Suspecting the object of the expedition to be the seizure of several pieces of artillery secreted at Salem, Major John Pedrick hastened on horseback to that town, and gave the alarm at the door of the North Church. He was soon joined by a party of young men from Marblehead, and together they proceeded to the North Bridge, over which the regulars were obliged to pass.
Confronted by patriot militia at North Bridge in Salem, Col. Leslie eventually was allowed to cross on condition he advance only a short distance and then withdraw.
Maj. Pedrick's House in Marblehead later served as an inn.