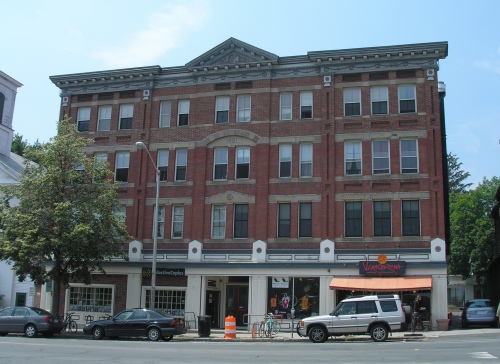 On July 4, 1879, a line of buildings on South Pleasant Street comprising Merchants's Row in downtown Amherst were all destroyed in a fire. According to The History of Amherst (1896), compiled by Carpenter & Morehouse,
The fire started in a shed in the rear of George Cutler's store. It communicated quickly to the barns of Stebbins' livery stable, and thence to the Amherst house. These buildings were all burned, together with the Savings bank block, Charles Adams' block and the stores of O. G. Couch, J. H. Starbuck, Edwin Nelson, George Cutler and B. F. Kendrick. The origin of the fire was unknown. The loss was between $50,000 and $90,000, largely covered by insurance.
The new Merchants' Row, completed in 1880, was built on part of the site of the lost buildings.